In this entry of my action sports blog, I'll give you the rules for taking good sports photographs. It's pretty simple really. Focus, Face (especially the eyes), action, and the ball. Let's add one other rule for newspapers; "Two faces and the ball".
Focus is non-negotiable. It has to be sharp. If it isn't, toss the pic in the trash. High ISO noise can be dealt with in post production but if the image is blurry from either motion blur or a misplaced focus, that image cannot be recovered. Second, a good image must have a face and newspapers prefer to see two faces. Shakespeare wrote: "The Eyes are the window to your soul." If your image of the face gets a look at the eyes, that's good. If you are tight enough to have those eyes reveal the emotion, intensity, and character of the athlete, i.e. his soul, that's outstanding.
The action captured should be peak action. If you look at the image and see that it is just after the tag or just after the athlete completed the play and is starting to relax, you've missed the shot. Last, if there is an object used in the sport, that object should be included in the image. It can be a ball, a puck, a shuttlecock, whatever. If the athletes use it, have it in the picture. When you have an image that requires a peculiar crop to include the object, that's probably a sign that the photo won't work.
Now that you know the rules, let's break them. First, consider two of the greatest sports photos of all time. These are iconic images for those old enough to remember them.
Y.A. Tittle was the NFL MVP in 1963. On this play in late 1964, he suffered a bone-jarring hit while throwing. The pass was intercepted and returned for a touchdown. The 38 year old Tittle, a great and valiant warrior, bloodied and injured, was finished. No game action, no ball here, and the image quality is poor by today's standards, but this memorable moment fifty years ago, yielded one of the most enduring sports images of all time. This photo was taken by the late Morris Berman. Mr. Berman submitted this photo to his editor who refused to print it. He wanted action. The editor knew the 'rules' of a good sports photograph but was too rigid to recognize greatness that fell outside the lines. Grain or noise in the image? Horizon off? Who cares.
Fair Use--Commentary
Muhammad Ali referred to himself as the "Greatest of All-Time." When he defeated Sonny Liston, the world paused to view this brash, supremely talented fighter. This iconic image from 1965 didn't capture the decisive punch and although it wasn't peak action, it was the emotional peak of this fight and his career. Notice all the pro photographers in the background who were in the wrong place at the wrong time. We aren't the only ones who miss great moments! Think of peak action in a larger sense where it can include peak emotion and great storytelling. Once again, we could quibble about image quality (noise and contrast) but that would miss the point.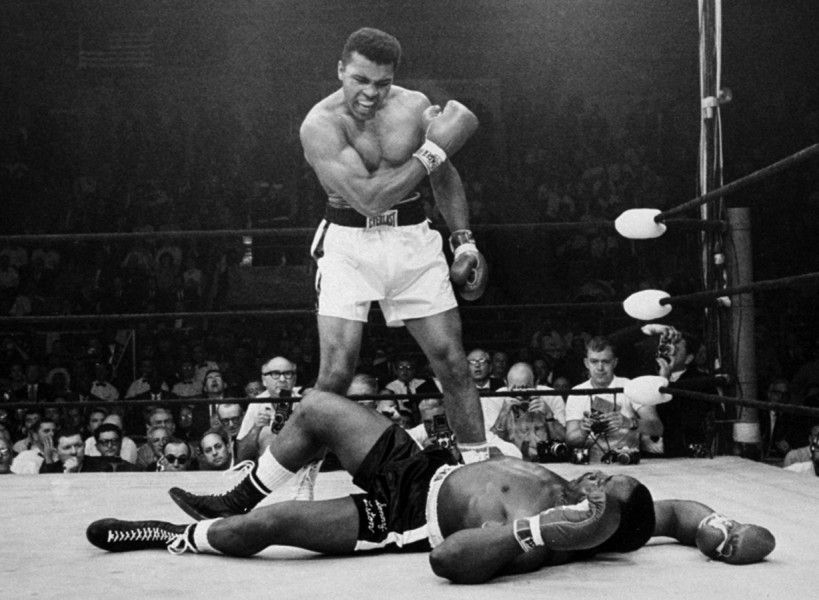 Fair Use--Commentary
Most of us will never shoot all-time greats but we have the opportunity to shoot excellent images that break the rules. These captures will be a smaller percentage of our total but really add something. Be sure to look for peaks of emotion or intensity--not just action. Jube shots are important examples of this peak emotion. Here are some other examples from high school athletic contests.
Can you hear me now?
1/1600 sec. f/5, 300mm, ISO 1600, Canon 1D Mark III, Canon EF 300mm f/2.8L IS

The talented freshman makes a mistake--and knows it.
1/800 sec. 200mm, f/2.8, ISO 6400, Canon 1D X, Canon EF 70-200mm f/2.8L IS II
Pure athleticism.
1/8000 sec. f/3.2, 400mm, ISO 400, Canon 1D Mark IV, Canon EF 400mm f/2.8L IS